Ushuaia
Argentina
The Southern-most city on the planet is also home to the most beautiful ski resort in Ushuaia, Argentina. Cerro Castor is about 16 miles from Ushuaia and is the ideal destination for skiers who appreciate beautiful views, modern slopes, and fresh powder snow, which is abundant in this region. Privileged because of its location in the Southermost tip of the world and georaphy, the Ushuaia ski hub challenges all levels of skiers. The ski season in Ushuaia is one longest ski seasons in South America, running from June to October. You can also explore exuberant nature in the Tierra del Fuego (Land of Fire) by experiencing dog-sleigh rides, snowshoe walks, and cruises where you'll find penguins and sea lions, frequent visitors to the region.
SEASON
Southern Hemisphere July to November
MONTAIN
Base - 640 feet
Top - 3,445 feet
SERVICES

Bar

Disco

Gourmet Restaurant

Historical Village / Tour

Nature Tour / Animal Observing

Shopping Area

Ski School

Snowpark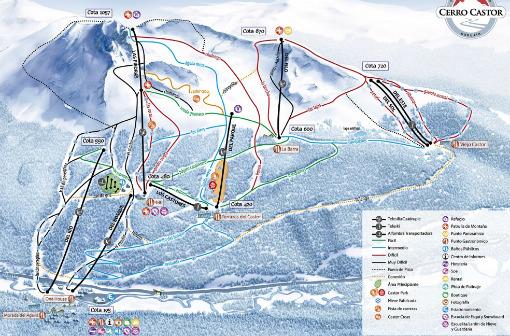 RESTAURANTS
At the base of the Ushuaia ski mountains, there are multiple restaurants where you can try authentic "fueguino" cuisine, such as Argentine parrilla, maja squinado, the local crab dish, along with lamb and merluza negra dishes. La Cravia restaurant, at Arakur Hotel, Le Martial at Las Hayas Hotel, and Réve D'Orangel, at the Los Acebos Hotel, serve the best of local ingredients paired with delicious presentation. To try a mix of Argentine cuisine with other countries, try Reinamora at the Los Cauquenes Hotel, Buena Vista at the Lennox Hotel, or Morada del Águila, at Castor Ski Lodge.
THINGS TO DO
Explore the incredible views on the Ushuaia ski slopes by going on snowshoe walks, cross-country ski sessions, or the fun-filled fox ski (a different type of skiing in Ushuaia!). Enjoy the sunset from a catamaran on the Beagle Canal or take a dog sleigh ride on the Andes Mountains. If you prefer to have fun with the enire family, choose between snowmobiles or a four-by-four ride in the mysterious Tierra del Fuego (Land of Fire).
FOR KIDS
In Cerro Castor, there are three different areas for children depending on age group: from three months to three years, they can have fun at the Guarderia, 3 to 6-year olds can train their skiing at the Jardín de Nieve (Snow Garden), and the Escuelita is for boys and girls ages 7 to 13 that can go on the Ushuaia ski slopes.
SHOPPING
There are three stores at the base of the Ushuaia ski hub, where you'll find brands such as The North Face, Salomon and Spyder y Poc, along with all necessary equipment to take ful advantage of your day at the Ushuaia ski complex.
EQUIPAMENT RENTALS
There are three shops at the base of the mountain, with equipment for all sizes and modalities, as well as trousers, jackets and overalls. The high-tech workshop also offers services to those who have their own equipment.
MAP
Lodging Options
Other ski resorts