Vail
United States
There is a reason why Vail is located in a special corner of the Rocky Mountains in Colorado. And it's also no coincidence that the place looks like a scenic town with impeccable streets and alpine-style buildings. It was conceived by winter sports enthusiasts who wanted to create the perfect ski resort; the complex was built from scratch in the 1960s with Zermatt, Switzerland, as a major reference. And one can say that the goal was achieved. Geographically privileged, Vail combines 300 sunny days a year with snow in abundance, which is spread over more than 2 thousand hectares of skiable area. In total, there are almost 200 runs for all levels of skiers, served by state-of-the-art lifts: one of the fastest gondolas in the world, for example, is located in the resort. The quality skiing is added to an exceptional infrastructure at the base of the mountain. There, along almost ten kilometers, are lined up the little towns of Cascade Village, Golden Peak, Lionshead, and Vail Village. The last two, which are the main ones, are connected by a free shuttle. The list of attractions is immense, starting with gourmet restaurants, great sports stores and lively après-ski. Then there is a whole list of activities for families: movies, bowling, skating rinks, and even a snow amusement center that stays open until late, Adventure Ridge. Everything that has been thoroughly thought out, it is the right place to enjoy the perfect winter vacation.
Opened on December 15th, 1962, Vail is one of the most traditional ski resorts in the United States and it will celebrate 60 years of its existence in 2022. In addition to improvements in infrastructure and the modernization of the resort, the town is preparing a big party and local events, ensuring a lot of fun for everyone who will be there next season. Don't miss it!
SEASON
Northern Hemisphere
MONTAIN
Base - 8,120 feet
Top - 11,570 feet
SERVICES

Art Galleries

Back Bowl Skiing

Bar

Day Care For Little Ones

Disco

Ice Skating

Movie Theater

Shopping Area

Snow Roller Coaster

Snowpark

Tubing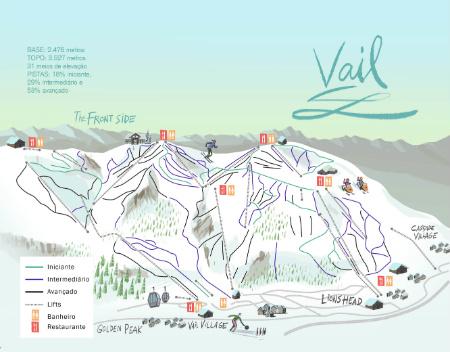 GASTRONOMY
On the mountain: Vail has great mountain restaurants, such as the elegant The 10th, which has classic dishes as well as kid-friendly options, and Bistro Fourteen, which serves steaks, sandwiches, salads and soups. Belle's Camp serves quick sandwiches and cookies that can be enjoyed on outdoor picnic tables. Game Creek, installed in a European-style chalet, is only accessible via gondola or snowcat, which guarantees the experience. At the village: The options are quite varied. From chef Nobu's excellent Japanese food at Matsuhisa to Leonora's tapas and Sweet Basil's contemporary dishes. The ski resort also stands out for offering good food options for children, with special menus for them at Up the Creek, Vail Chophouse and Bart & Yeti's.
WHAT TO DO BEYOND SKIING
Vail is an adrenaline junkie's dream, offering activities like ski biking, which is exactly what it sounds like – part biking, part skiing, 100 percent thrilling. There is multi-lane tubing with music, snowmobile rides for kids and adults alike.
FOR KIDS
Peppered across the mountain are 13 different children's areas filled with special trails and slopes. Off the mountain, Böl bowling alley awaits your strikes, two ice-skating rinks are cued up with pop songs for your gliding glory and The Adventure Ridge winter-themed kids park has tubing and mini-snowmobile rides.
SHOPPING
In Vail you will find everything you need for your winter vacation. There are from well-known sports stores, such as The North Face, Burton, Patagonia, Billabong and Quicksilver, to the multi-brand Gorsuch, which even sells equipment. At Kidsport you can find children's outdoor clothing and, at Skin by Vail Dermatology, special sunscreens for snow. Surefoot specializes in ski boots. Finally, half an hour away from the station, the Silverthorne outlet brings together discounts on brands such as Ralph Lauren, Nike and Calvin Klein.
NIGHT LIFE
One of the most famous après-ski in the region is The Red Lion, but Los Amigos, at the base of Gondola One, is also a good place to follow the skiers coming and going after a day in the mountains. Vail also has great bars: for whiskeys and vodkas, head to 10th Mountain Whiskey & Spitirs, for wines, Root & Flower, and for inventive drinks, The Remedy Bar. Finally, the best place to dance is the Shakedown Bar, with live bands.
SKI SCHOOL
The Vail Development Program (DEVO) has various programs focusing on selective skill improvement such as learning to ski in all conditions, tackling alpine racing and improving snowboard riding skills. The Children's Ski School is located in both Golden Peak and Lionshead Villages and the Adult Ski School can be accessed at all three base areas.
NEWS FOT THE SEASON 2022/2023
Connecting the Sundown Bowl area to Wildwood, Vail will inaugurate the new Sundown Lift, designed to facilitate skiers' access from Lionshead Village to the seven back bowls area. With a capacity of 4 people at a time, it will be a high-speed alternative for exploring most of the resort in less time. Continuing with the resort's renovations and upgrades, Vail is completely replacing the Game Creek Express with a new high-speed, 6-person-at-a-time lift, increasing capacity by nearly 50 percent.
HOW TO GET HERE
Eagle County Airport: 42 miles
Denver Airport: 126 miles
MAP
Lodging Options
Other ski resorts