Villa La Angostura
Argentina
Cerro Bayo sits on the shores of Nahuel Huapi Lake, less than 100 kilometers from Bariloche. Its picturesque landscape is composed of foliage, mountains, and lakes. Unlike its much talked about neighboring town, Villa la Angostura is an exclusive enclave that allows skiers to quietly enjoy the slopes and lifts. The hub includes wi-fi and features 25 slopes, 460 skiable acres, and several restaurants. There are 16 ways to ascend the mountains and an even greater number of days to ski in Cerro Bayo, given its altitude – the highest elevated town sees longer longer snow falls.
SEASON
Southern Hemisphere July to November
MONTAIN
Base - 3,445 feet
Top - 5,905 feet
SERVICES

Back Bowl Skiing

Back Country Skiing

Day Care For Little Ones

Gourmet Restaurant

Kids Ski School Facilities

Shopping Area

Ski School

Snowpark

Snowshoes

Tubing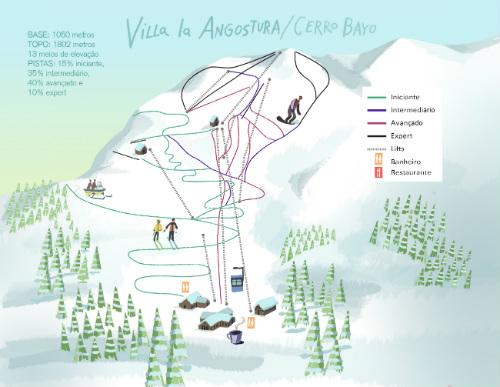 RESTAURANTS
La Caballeriza restaurant, in the local village, offers a menu that specializes on traditional grilled parrilla dishes. Nicoletto restaurant serves artisanal pasta dishes and Tinto Bistro has an old-school French vibe. Restaurants such as Correntoso Gourmet, Las Balsas, and Luma are good options inside hotels. On the mountains, you'll find six restaurants where you can go for pit stops. Refugio Tronado serves typical mountain food, Altitud offers tasty Patagonian cuisine, and La Quesoteca parador, which has a view to the main slope, pairs delicious cheeses and wines.
THINGS TO DO
Book snowshoe walks or go snow-tubing to try different types of activities while still on the Cerro Bayo ski slopes and mountains!
FOR KIDS
The Cerro Bayo ski school for kids has five different areas, split by age. Kids as young as 45 days can stay in daycare, supervised by activity coordinators. Older children have their own area and teenagers (13-17 years) who have experience on the slopes can try out new skills with ski instructors.
SHOPPING
In Villa la Angostura, the highlight is artistanal and locally produced souvenirs, for sale at Paseo del Puerto and Paseo de la Terminal.
EQUIPMENT RENTALS
Rentals can be made either on the bottom or 1,500 meters up the mountain. Beginners pick up their equipment on the peak, next to where classes are.
SKI SCHOOL
Group classes are held daily from 11:00 to 1:00PM with a minimum of four students per class. Individual or "individual plus" classes are offered a priority on ski lift lines, as well as the Gold Classes, which are super-exclusive. Gold Classes include an instructor that is fully available to help perfect technique and skills ou that guide you through lesser-known areas of the mountain.
HOW TO GET HERE
Bariloche Airport: 53 miles
MAP
Lodging Options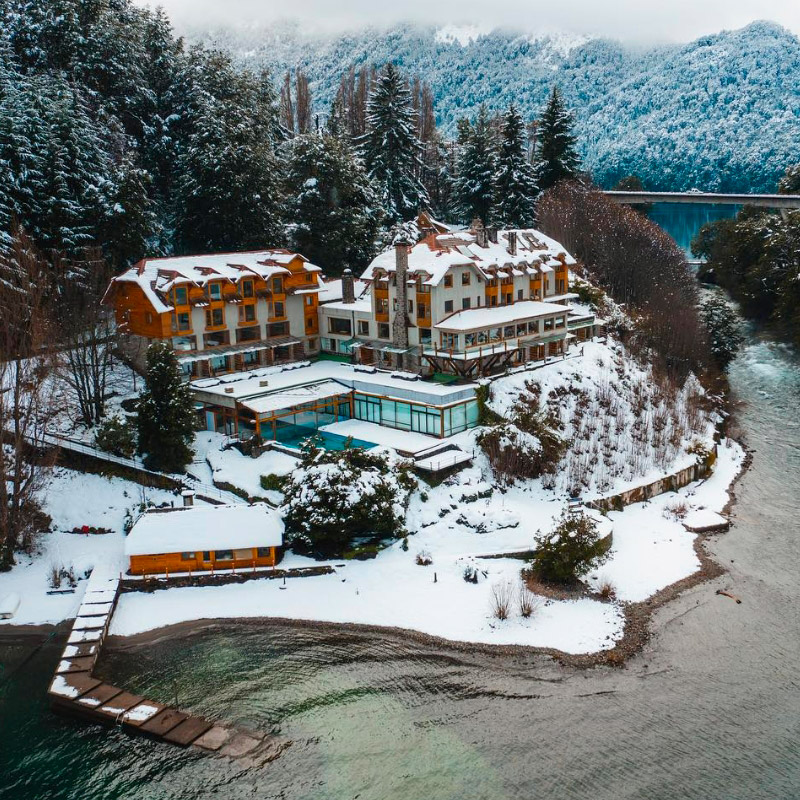 The charming alpine-style hotel, located between the mountains and Lake Nahuel Huapi, has comfortable accommodations and stunning views of the Correntoso River. Amenities include three restaurants, bar, Spa, heated pool, games room, and an area to organize groups for outdoor activities. Snow sports lovers can visit Cerro Bayo's slopes, which are…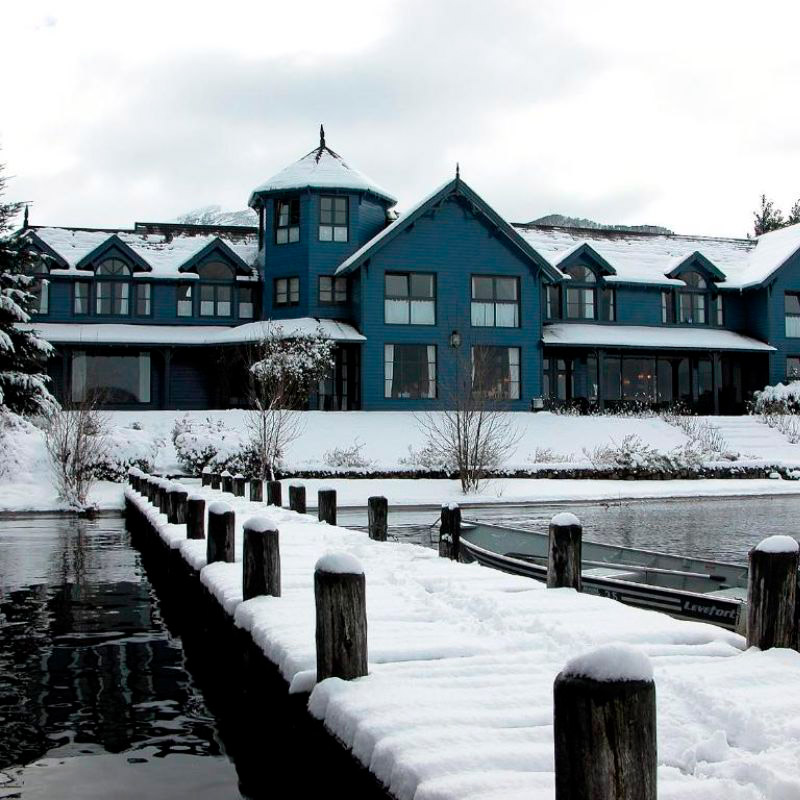 Fully immersed in the surrounding nature – not only idyllic Nahuel Huapi Lake but also centennial native forest – the chalet, built in classic mountain style, is one of the area's most traditional buildings. Recent enhancements to the hotel: spa, magnificent wine cellar, additional rooms, and an additional restaurant.
Other ski resorts