Bariloche
Argentina
More than 80 years ago, Cerro Catedral was established as an icon of the city of Bariloche. The most famous ski resort in Argentina is very popular!  Besides the slopes for all levels of difficulty and a huge ski area, the beauty of the region transforms every moment into a unique experience. At the foot of the Cerro Catedral mountain and on the shores of the stunning Nahuel Huapi lake are all the services a visitor could need: hotels, restaurants, stores, a small gallery and even a mall. That's why the city gets so busy when the temperatures drop – find Calle Mitre and figure out where you want to end the day.
SEASON
Southern Hemisphere July to November
MONTAIN
Base - 3,380 feet
Top - 6,890 feet
SERVICES

Back Country Skiing

Bar

Day Care For Little Ones

Disco

Gourmet Restaurant

Kids Ski School Facilities

Nature Tour / Animal Observing

Shopping Area

Ski School

Snowpark

Snowshoes

Tubing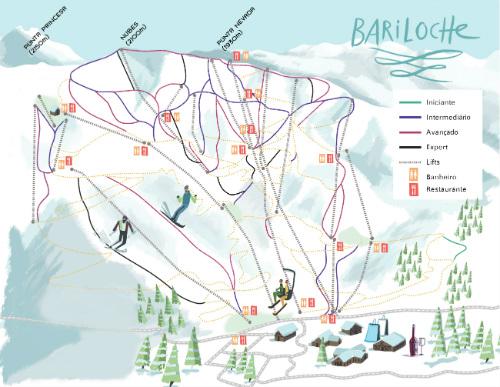 DINING
In Bariloche you will find many options of international and Argentine cuisine, such as Casa Cassis, which makes an incredible fusion of Patagonian and European flavors, and Avellana, located in the brand new Villa Belluno Hotel & Spa, which offers contemporary cuisine. Alto del Fuego is for those who want to try the famous Argentinian parrilla or barbecue. The Steg Restó at the Charming Luxury Lodge has a menu full of Patagonian classics such as roast lamb, and to end a day full of adventure in the snow, the Winter Garden at the Llao Llao Resort offers a delicious afternoon tea with hot chocolate, sweet pies, and smoked salmon sandwiches.
THINGS TO DO
Cerro Catedral has a total of 39 runs and a snowpark that covers an area of 3,000 square meters. Besides skiing, it is possible to have fun with tubing descents, sleigh rides and snow bikes, as well as rent snowmobiles and quadricycles. It also has ski and snowboard schools, a shopping mall, restaurants and bars. In Bariloche, visit the Patagonia Museum and the Chocolate Museum. In the Nahuel Huapi National Park, take a walk by the lake of the same name and enjoy the interaction with nature.
SHOPPING
In town, be sure to try the delicious handmade chocolates in stores such as Abuela Goye, Fenoglio, Rapa Nui, Frantom, Mamushka and Del Turista, and stroll down Mitre Street, Bariloche's main street, where you will find stores, restaurants and chocolate stores as well. At the base of Cerro Catedral, there is a mini mall and a gallery with equipment rental stores and ski schools.
FOR KIDS
Exclusive for guests, Club Nahuelito (from the Llao Llao hotel) and Club House (from the Village) organize several activities for the little ones, including cooking classes and supervised games. Children who accompany their parents on the slopes can take advantage of the resort's Kids Club with recreationists and an exclusive open area for their first contact with skiing. In the Nieve Park, at the base of the resort, is the Catyland with ramps and obstacles to improve skills.
NIGHTLIFE
If you're feeling lucky, go to the casino or enjoy your night at one of the local breweries offering a variety of craft beers, such as the Club Cervecero Blest Km 4 or La Cruz.
EQUIPMENT RENTAL
There are 7,000 pieces of ski equipment and 1,500 pieces of snowboard and Nordic ski equipment available for rent so that you and your family can find the best for the practice of snow sports.
SKI SCHOOL
The resort offers more than one ski and snowboard school, with several highly qualified instructors, available for classes of different levels, from beginners to advanced that want to improve their technique.
HOW TO GET HERE
Bariloche Airport: 21 miles
Osorno Airport: 165 miles
MAP
Lodging Options
Other ski resorts