La Thuile
Italy
La Thuile, located in the heart of the Aosta Valley and rich in preserved local architecture, was a hidden treasure for centuries. With tracks for all levels, it connects with La Rosière, in France, through a complex of modern ski lifts. The experience is unique, allowing skiers to ski in two countries the same day. Much like its slopes, the small village of 800 inhabitants prefers to remain quiet; this makes it an ideal destination for couples and families in search of quality skiing and gastronomy. The region offers stunning natural beauty with a myriad of options for outdoor activities and is just five miles from Courmayer, a city with vibrant nightlife.
SEASON
Northern Hemisphere
MONTAIN
Base - 3,937 feet
Top - 8,694 feet
SERVICES

Catski

Heliski

Restaurant

Ski School

Snowshoes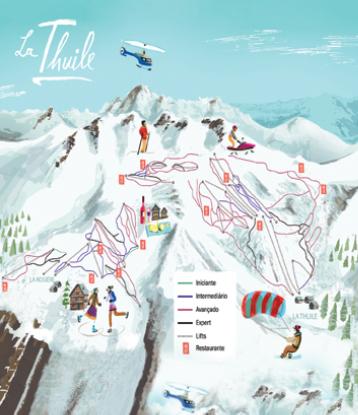 DINNER IN THE MOUNTAIN
Enjoy dinner on the rifugio Lo Riondet, a restaurant that offers polenta and traditional pasta. Arriving is an experience, hop on a snowcat and head out for a dining experience.
TASTE BUDS
Lovers of Italian cuisine must sample regional cheeses like the famous fontina and sausages such as boudin and motzetta
ATTENTION FREERIDERS!
The resort is perfect for practicing freeriding, mainly in the regions of Monte Bianco or near the Rutor glacier. Advanced skiers can heliski and do backcountry ski runs.
NEW OPPORTUNITIES
The resort offers different ski and snowboarding adaptations such as snowkiting, which implements kitesurfing techniques. Beginners can begin by learning to first fly the kite safely.
FUN FOR CHILDREN
L'Amousement is a 4300 sq.ft. games room for children aged 3 to 8 with video games, an arcade, pool table, and various games.
HOW TO GET HERE
Geneva Airport: 81 miles
MAP
Lodging Options
Other ski resorts