Megève
France
One of the most charming resorts in Europe, the history of Megève began when Baroness de Rothschild, bored with other ski resorts in the Alps, opened a hotel in the region in the 1920s. most traditional ski destinations in France.
Megève draws attention for its scenic and icy landscapes, marked by the French hills that stamp the city's postcards and seem to embrace the region. The extensive variety of slopes, has more than 300 kilometers of beginner and expert slopes, in addition to the easy access to the stations made possible by the best hotels. Today, the station has more than 200 stores in the charming center of the village, in addition to numerous bars and gastronomic restaurants (of which 3 have Michelin stars).
SEASON
Northern Hemisphere January to April
MONTAIN
Base - 3444 feet
Top - 7709 feet
SERVICES

Art Galleries

Bar

Casino

Disco

Gourmet Restaurant

Night Skiing

Shopping Area

Ski School

Snowpark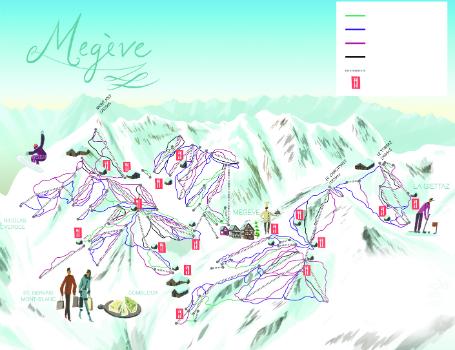 GASTRONOMY
It is impossible not to eat fondue on winter holidays and, in Megève, L'Alpage serves the best! When it comes to haute cuisine, Flocons de Sel, with three Michelin stars by chef Emmanuel Renaut and Le 1920 by Chef Julien Gatillon, who just won his second star, are the best options for dinner.
WHAT TO DO BEYOND SKIING
For those who don't like to ski, the city offers several activities such as: snowboarding, trekking, ice skating, alpine skiing, cross-country skiing, snowshoeing, sleigh rides and paragliding.
ACTIVITY FOR CHILDREN
Megeve Ski Resort offers The Piou Piou Club, which teaches children skiing to children from 3 years old. Children Leisure has a special program that offers a variety of entertainment activities. For those with babies aged 11 months to 3 years, there is also a nursery option.
SHOPPING
For lovers of clothes and accessories, the city leaves nothing to be desired. There are several sophisticated stores, such as: Allard, La Canadienne, Big Boss, Faconnable, Napapidjiri, Moncler and Snow Valley.
NIGHT LIFE
Good apres ski options are La Folie Douce, Le TIGrr and The Cocoon Club. All have a sophisticated atmosphere and DJs all night long for tourists to enjoy.
HOW TO GET HERE
Geneva: Transfer 1 Hr
Chambery: Transfer 1 Hr 30 Min
Grenoble: Transfer 2 Hrs
MAP
Lodging Options
Other ski resorts