Cortina D'Ampezzo
Italy
Cortina d'Ampezzo is known as the "Queen of the Dolomites" and is perfect for taking a trip through one of the most beautiful regions of Italy. In winter, it is a famous resort, much sought after by ski lovers, and has even hosted the Olympic Games. What is certain is that in any season you will find a charming and refined city, surrounded by stunning landscapes.
Located in the province of Belluno, in northern Italy. The city was part of the Austro-Hungarian empire and still retains traces of that heritage in language, architecture and cuisine. Cortina is surrounded by the Dolomites, a mountain range in Italy's Alps that is a UNESCO World Heritage Site. The area covers five provinces: Trento, Bolzano, Belluno, Udine and Pordenone. The mountains were over 3,000 meters high and the scenery surrounding the city is impressive: green valleys with small alpine houses, lakes with blue waters and mountains with snowy peaks.
SEASON
Northern Hemisphere December to April
MONTAIN
Base - 1224 m
Top - 2990 m
SERVICES

Back Country Skiing

Bobsled

Disco

Gourmet Restaurant

Heliski

Movie Theater

Shopping Area

Snowpark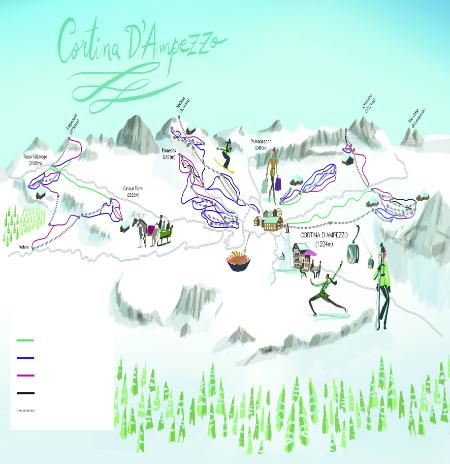 GASTRONOMY
Cortina is a stronghold of good restaurants, some of them with stars in the Michelin Guide, such as Tivoli Restaurant and San Brite. In addition to the famous Italian pastas, served at places such as Stella Polare Restaurant and Pizzeria La Perla.
WHAT TO DO BESIDES SKIING
Cortina d'Ampezzo is surrounded by some of the most beautiful lakes in the Dolomites. Lago di Braies, 50 km away, is well worth a visit, considered by many to be the most beautiful in the Italian Alps. Cortina is also well stocked with museums such as: the Museum of Modern Art Mário Rimoldi brings together works by Italian painters and the Paleontological Museum Rinaldo Zardini has been open since 1975. In addition, it has activities such as fatbiking, dog sledding and snowshoes.
ACTIVITIES FOR CHILDREN
Children can enjoy activities including snowshoe excursions. The Col de Varda is a refuge with a large lake surrounded by mountains with snowy peaks, the place is frequented by families for picnics and an amusement park in the middle of alpine landscapes.
SHOPPING
The main street is Corso Italia, and the busiest. There are several clothing stores, art galleries, antique stores, restaurants, cafes and supermarkets. Be sure to visit La Cooperativa di Cortina, with many regional products.
NIGHT LIFE
The attractions of Cortina D'Ampezzo are not limited to good ski slopes. Highlighting the bustling nightlife due to the various bars and restaurants, the resort exudes glamour. Belvedere Cortina d'Ampezzo is considered a great place to have a drink with music. In addition, there is the Janbo Disco Club, a mandatory stop for all nightlife lovers. It is the main reference for DJ nights and live music.
HOW TO GET HERE
Cornova di Treviso: Transfer 1 Hr 45 Min
Venice: Transfer 1 Hr 50 Min
Innsbruck: Transfer 2 Hr 10 Min
MAP
Lodging Options
Other ski resorts