Telluride
United States
Combining an authentic village with a fantastic ski area, Telluride is consistently rated one of the best ski resorts in the world. Just walk a few kilometers along Colorado Avenue, the resort's main street, and you'll recognize Telluride's past as a small town in the Wild West. In fact, it was founded during the mining boom in the United States in the 19th century, before it was completely abandoned in the 1950s and only to be reborn in the 1970s, when the first five lifts on the mountain were inaugurated. This was just the ticket to attract skiers from all over the world; after all, the region accumulates 711 meters of snow per year and is home to the highest snowy peaks in all of North America – the San Juan Mountains, some of which are over 4,000 meters high.
The result is 810 hectares of skiable area, 19 lifts and 148 slopes that entertain skiers of all levels. Beginners love six-kilometer-long descents on the Galloping Goose (the longest on the mountain), intermediate skiers can try the resort's two most popular slopes—The See Forever and Prospec Bowl, and advanced and extreme athletes venture into special areas only accessible after a hike in the snow. In some cases, you can only get there by helicopter. A pioneer in heliskiing in Colorado, Telluride still has over 500km² of virgin area covered in fluffy snow for those looking for an extra dose of adrenaline.
SEASON
Northern Hemisphere December to May
MONTAIN
Base - 8,725 feet
Top - 13,150 feet
SERVICES

Back Country Skiing

Bobsled

Day Care For Little Ones

Gondola < 10

Gourmet Restaurant

Heliski

Historic Museum

Ice Skating

Kids Snowmobile

Nature Tour / Animal Observing

Nordic Skiing

Snowbike

Snowmobile Tours

Snowpark

Snowshoes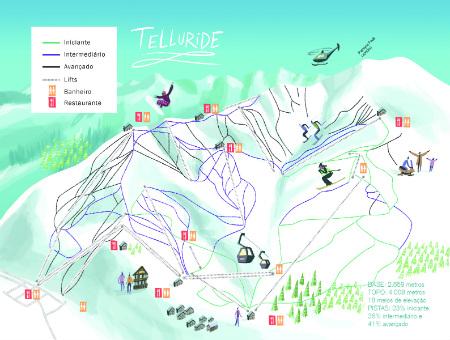 GASTRONOMY
In the village: Here, there is no shortage of restaurants with interesting propositions such as Wood Ear, which mixes Texan and Asian influences, the Black Iron Kitchen & Bar, which works with dry-aged meats, and The National, which recreates classic dishes. In addition to steaks and seafood, 221 South Oak has a full vegetarian menu and is known for its intimate atmosphere and extensive wine list, Altezza and Rustico Ristorante serve classic Italian cuisine, Chop House, inside the premises of the New Sheridan hotel, serves delicious steaks and La Marmotte, with over 20 years of tradition, serves French cuisine specialties during dinner. On the mountain: There are great options for gourmet restaurants on the mountain, such as Allred's, which has beautiful views of the region, Alpino Vino, for Italian cuisine, Bom Vivant, with a French-accented menu, and Giuseppe's, which offers American with some New Orleans specialties. It is also on the slopes that skiers can find one of the best hamburgers in the region, at Gorrono Ranch.
WHAT TO DO BEYOND SKIING
The resort offers classic snowbike, snowmobile or snowshoes tours – just choose your preferred way to move. But another exciting outdoor excursion is ice climbing: the area has great ice walls for those who have never ventured into the sport. Plus, it's worth taking the time to experience Telluride's vintage charm, whether by watching a movie at the charming Nugget Theater or visiting the Historical Museum, which is housed in a former hospital from 1896 and has more than 9,000 objects and 1,500 photographs that recount the local history, or fit in a private tour of Wagner Custom Skis Factory Tour, a sustainable ski factory in the heart of Mountain Village.
ACTIVITIES FOR KIDS
During the day, Telluride Town Park is full of children and adults sliding down side by side on the tubing rinks or skating in one of two rinks – one is outdoors and the other is covered. Another good option is Eco Adventures, which welcomes children from five to twelve years old and introduces them to the snowy landscape with snowshoe walks and building ice castles. On specific dates, the Kid's Night Out program has monitors at the Telluride Adventure Center until 9pm to entertain the kids.
SHOPPING
Colorado Avenue, Telluride's main street, has a dozen interesting local stores, such as Cashmere Red, which sells Scottish cashmere, and Telluride Trappings & Toggery, with clothing and accessories. But there are also great, well-known sports brands, such as Burton and Patagonia.
NIGHT LIFE
It's hard to pick just one place to enjoy Telluride's après-ski. The oldest bar in town is the Historic Bar Telluride at the New Sheridan hotel, which has been around since 1895 and is worth a visit in its own right. The Oak Fat Valley BBQ is great for an unpretentious beer, while the Tomboy Tavern serves a famous Bloody Mary and the There Bar has inventive drinks accompanied by Asian appetizers. For live music, fun options are the relaxed Poachers Pub or the elegant Club Red.
SKI FOR ALL LEVELS
Telluride's longest run is the beginner's favorite Galloping Goose, which spans 7.4 kilometers, with a maximum vertical drop of 1,349 meters, while the resort's two most popular runs, The See Forever and Prospec Bowl, are ideal for intermediate skiers. In addition, Telluride is world renowned for its areas for experts and radicals, which are among the most famous in the world, such as Kant-Mak-M, Revelation Bowl, Black Iron Basin, Gold Hill Chutes and The Plunge.
HELISKI
The helicopter takes off in the morning towards the most sought-after peaks in the region. The destination? An area of ​​more than 500km², where the snow is always fluffy and the scenery is beyond imagination. Bowls, large corridors or wide trails are the stage for exciting descents that can start at over 4,000 meters of altitude. The tour, with experienced guides, includes an average of six descents.
HOW TO GET HERE
Montrose Regional Airport - 69 mi (1h28)
Cortez Municipal Airport - 179 mi (1h40)
MAP
Lodging Options
Other ski resorts