Northstar
United States
Action-packed days of skiing end with stunning sunsets – the sky is painted with orange and yellow tones. Northstar, a quaint region of Lake Tahoe, on the Nevada/California border, enjoys 300 days of sun and an annual average snowfall of 40 feet, while boasting spectacular slopes and high-tech lifts.
SEASON
Northern Hemisphere December to April
MONTAIN
Base - 6,328 feet
Top - 8,608 feet
SERVICES

Shopping Area

Ski School

Tubing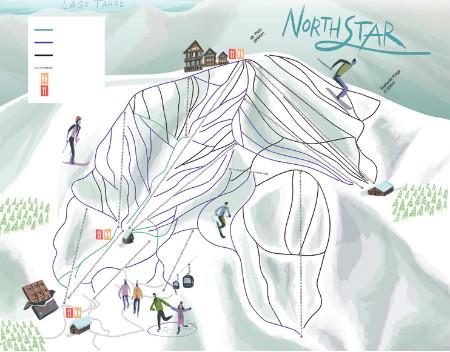 RESTAURANTS
The Hungry Bear serves delicious steak and seafood plates at the Ridge, surrounding a fireplace. The Manzanita, at the Ritz-Carlton, serves Californian cuisine. Loft Theatre-Lounge-Dining serves fresh Italian dishes while visitors watch movies, inside the restaurant.
THINGS TO DO
Snowshoe trails or sled rides are a great way to explore the Lake Tahoe mountains and natural beauty.
FOR KIDS
In Adventure Mountain, kids and family can have fun in the large outside area, and can go tubing, sleigh-riding, and have snowball fights.
SHOPPING
Shopping in Lake Tahoe is a mix of local products and big brands.
NIGHT LIFE
After sunset, go to the Bear Trap Bar at the Ritz Carlton, with a casual atmosphere and great cocktails. If you're feeling lucky, visit the local casino or go dancing at Peek Nightclub.
HOW TO GET HERE
Reno Airport: 41 miles
MAP
Lodging Options
Other ski resorts