Alta Badia
Italy
Corvara is located in a favorable and sunny location, at the foot of the Sassongher mountain, at 1,568m above sea level. Directly from the slopes of the largest ski carousel in the world, the Dolomiti Superski, it has access to a network of modern lift systems.
The first ski school in the valley was founded in Corvara in the 1930s and the first ski lift was built in 1938 when the Col Alto ski lift opened. Today it is the undisputed tourist center of Alta Badia and, with its modern accommodation and entertainment facilities, it is one of the most popular holiday destinations in the Alpine region.
SEASON
Northern Hemisphere December to April
MONTAIN
Base - 1.324 m
Top - 2.778 m
SERVICES

Bar

Gondola < 10

Gourmet Restaurant

Ice Skating

Kids Ski School Facilities

Nordic Skiing

Ski School
GASTRONOMY
The gastronomy of Alta Badia is characterized by quality and genuine ingredients from South Tyrol. The famous Michelin-starred restaurant, St Humbertus, focuses on local and alpine ingredients presented in a varied and exciting tasting menu. It would not be an exaggeration to describe the Stüa de Michil restaurant as one of the most romantic in Italy. The menu focuses on alpine products, accompanied by a wine list with more than 7,000 labels.
WHAT TO DO BESIDES SKIING
Alta Badia offers more than 80km of trails, ideal for excursions in the snow. In addition to activities such as cross-country skiing, horse-drawn sledding, ice climbing, snowshoeing, among others.
ACTIVITIES FOR CHILDREN
Dolomites FunPark is the perfect alternative for little ones (from 1 year old). The park has sleds and paddles, slides for snowtubing and swings where children can take a break from skiing and have fun in the snow.
SHOPPING
For those looking to buy sportswear, the Sport Alfredo, Sports Kostner Junior and Alexis Sport & Fashion stores are super equipped. Weekly farmers markets are held in July and August. There you can find fresh fruit and vegetables, homemade products such as bread or cheese and many more delicacies for your taste buds.
NIGHT LIFE
Après-Ski in Alta Badia means cozy little bars and taverns with good drinks, tasty snacks and good music where you can end your skiing day in good company. On certain days of the week, you can dance to live music at the Las Vegas Lodge or Club Moritzino, which offers great music with a DJ.
HOW TO GET HERE
Airport di Venezia - 108 mi (2h40)
MAP
Lodging Options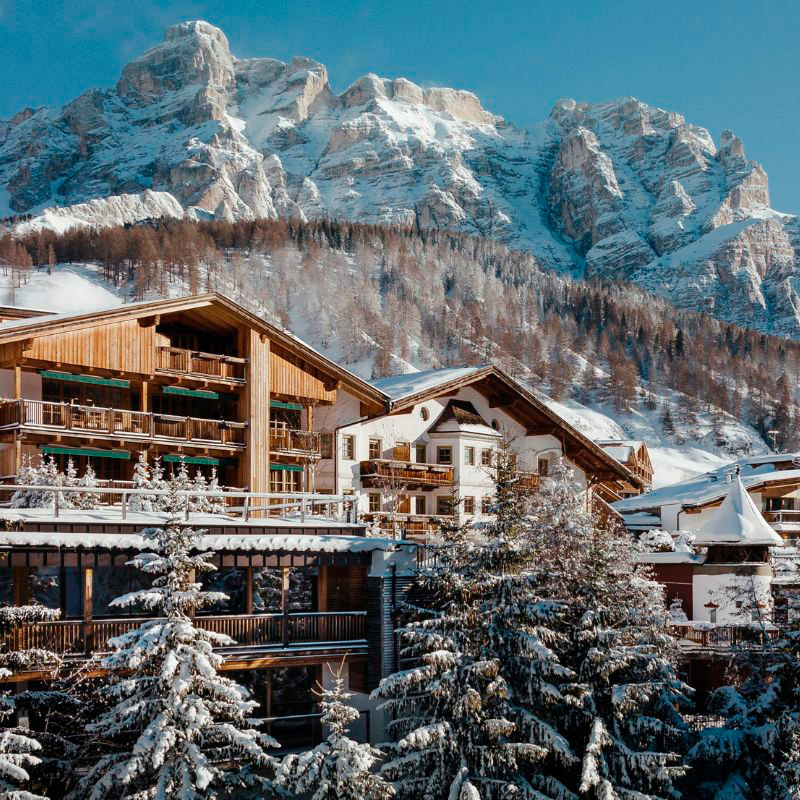 Hotel & Spa Rosa Alpina is in San Cassiano, just a five minute drive from the nearest gondola – and of course there is a transport there via shuttle. There are 51 rooms and suites designed with the best alpine style, all with a contemporary mountain flair. This hotel includes restaurants,…
Other ski resorts