Banff/Lake Louise
Canada
Endless mountain ranges, light snow and a sense of wilderness make winter in Banff National Park magical. With three world-class ski resorts
– Banff Sunshine Village, Lake Louise Ski Resort and Mt. Norquay – and a seven-month season, this is the perfect place to start your skiing and snowboarding adventure. Known as the "gentle giant", Lake Louise Ski Resort offers four mountain faces to explore.
The gondola and all cable cars have a green runway accessible from the top, except for the Summit Chair. This smooth terrain allows you to fully explore the resort while taking in breathtaking views for miles on end, especially the view of Lake Victoria Glacier from the top of the moun- tain. From grab-and-go options to fine dining on the mountain, the pos- sibilities are endless at Lake Louise Ski Resort. With a rich heritage and unique mountain tradition, Banff and Lake Louise are inspiring destina- tions. With easy access to pristine nature, endless outdoor adventures, jaw-dropping scenery and a vibrant history and culture, there's enough to do to last a lifetime.
SEASON
Northern Hemisphere November to May
MONTAIN
Base - 5,347 feet
Top - 6,998 feet
SERVICES

Day Care For Little Ones

Disco

Dogsled

Gourmet Restaurant

Ice Skating

Shopping Area

Ski School

Snowpark

Snowshoes

Tubing
GASTRONOMY
In the Village: Perched on the Bow River at the foot of Sulfur Mountain, Crave Mountain Grill is a great choice for a traditional Alberta lunch. Specializing in local cuisine, The Maple Leaf serves colorful dishes full of salads, meats and seafood in a funky setting in downtown Banff. On the mountain: Located at the beginning of the path to Mount Norquay Road, it is inside the Juniper Hotel and offers views of the entire region, and is the ideal place to relax with a well-deserved dinner after a day of adventure in the mountains. There you can also go to the Northern Lights Alpine Kitchen, inspired by local and seasonal ingredients, which presents a menu entirely based on alpine and local cuisine, right on top of Sulfur Mountain and with incredible views of the entire Banff region.
WHAT TO DO BEYOND THE SKIING
Banff is a city full of interesting things to see and do. In addition to gastronomy, you can venture out on a tour to see bears in the mountains from the top of the Banff gondola or take an ice walk in Johnston Canyon. On the lake of Lake Louise you can take a canoe trip and for hiking lovers, be sure to do one of the trails that leave Lake Louise towards the tea houses.
ACTIVITIES FOR KIDS
In Lake Louise there are many activities to keep the kids entertained such as ski lessons for ages 3 and up as well as Tiny Tigers Daycare in Sunshine Village and Kid's Place Daycare in Mt Norquay which looks after children aged 19 months to 6 years.
SHOPPING
Banff's main thoroughfare, Banff Avenue, is where local businesses are concentrated. Practically all of the city's main stores are on this avenue, such as sports stores: The North Face and Helly Hansen, and sundries: Roots and Hudson's Bay Company.
NIGHT LIFE
Park Distillery is a delicious alternative for those who want to enjoy the evening in style. They make most of the drinks served on site, which guarantees an unparalleled taste. In addition, the oldest pub in Banff - Rose & Crown Pub - has a classic snooker atmosphere, finger foods, several taps of craft beers, drinks and appetizers, and lively nights with bands and DJ's that get the party going every day of the week.
HOW TO GET HERE
Aeroporto internacional de Calgary: 128km – 1h30
MAP
Lodging Options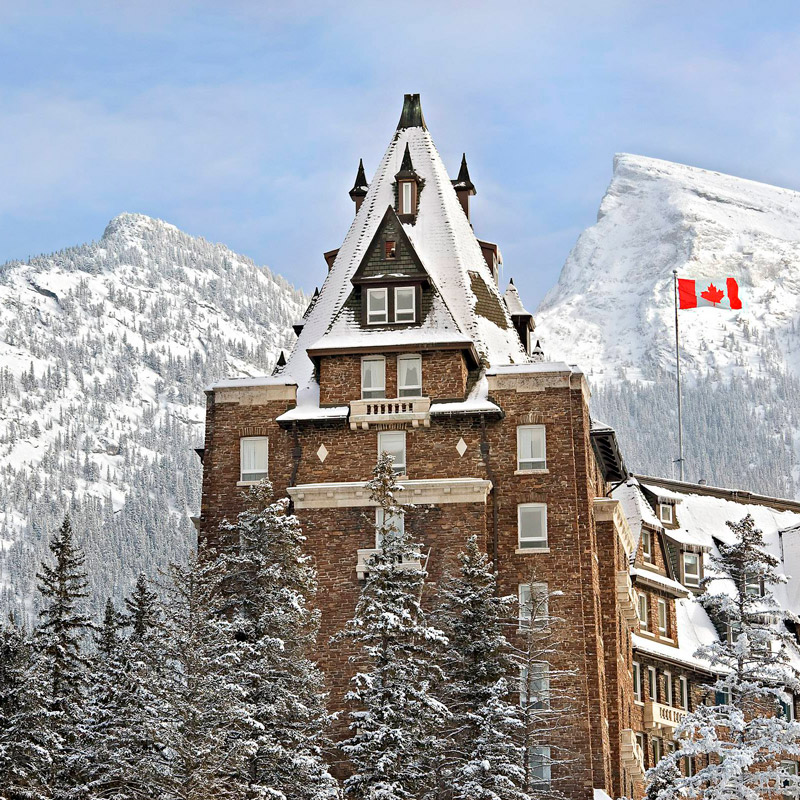 Located in Banff National Park, just minutes from the ski slopes, the hotel features 11 restaurants, 14 shops, a 105 foot Olympic pool, 66 foot outdoor heated pool, and a spa with 23 treatment rooms. Fairmont Banff Springs also offers activities such as bowling, tennis, horseback riding, and golf. The…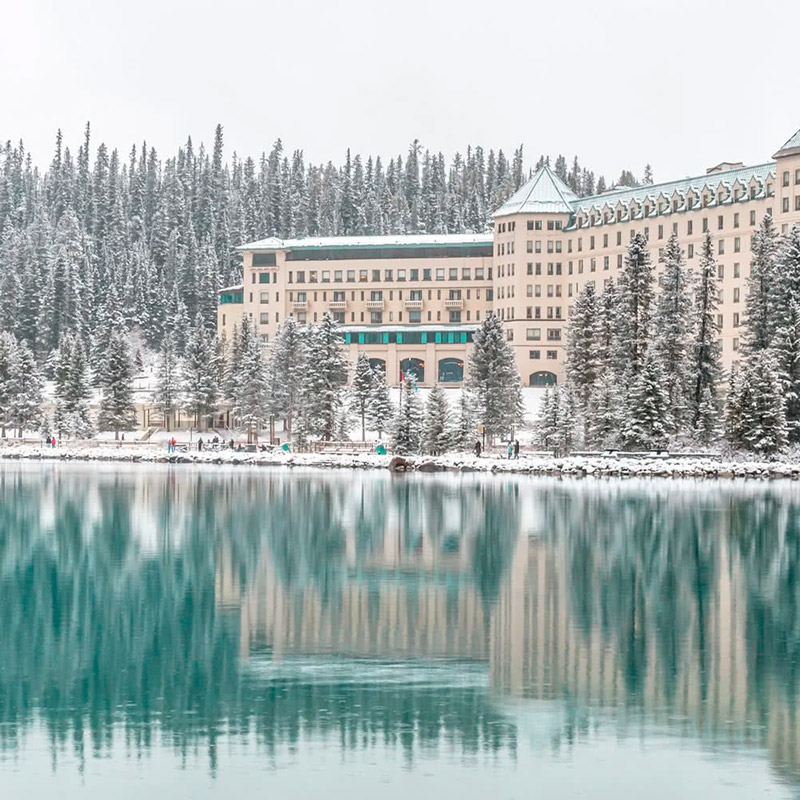 Nestled in the heart of Banff National Park, this iconic resort sits majestically on the shores of Lake Louise. Surrounded by pristine wilderness with unobstructed views of the Victoria Glacier, discover the grandeur of history and endless activities on the doorstep. Enjoy renovated rooms and suites, an expansion to the…
Other ski resorts