Deer Valley
United States
Set against the backdrop of the Wasatch Mountains and just a 10 minute drive from Park City, Deer Valley elevates the comfort of a ski vacation to new heights. One of the most exclusive resorts in the United States, it is known for its impeccable service and an infrastructure complete with all the details: there are, for example, day lodges next to the slopes for skiers to relax between one descent and another, a free storage for equipment at the base of the mountain, in addition to the support of concierges and "ski valets" and countless ski-in/ski-out restaurants. It's the kind of place that offers an oyster bar close to the slopes and serves Veuve Clicquot unceremoniously during après-ski, and where almost impossible to find lodging with less than five stars. The resort does not allow snowboarding and limits the number of daily visitors to the mountain to avoid queues. Family travelers will love the peaceful atmosphere, the children's play center and hotels with attractions for the little ones. And for those looking for action, it's close to Park City, home of shops and nightlife.
SEASON
Northern Hemisphere January to May
MONTAIN
Base - 7,200 ft
Top - 9,570 ft
SERVICES

Art Galleries

Day Care For Little Ones

Dogsled

Gourmet Restaurant

Kids Ski School Facilities

Nature Tour / Animal Observing

Nordic Skiing

Ski School

Snowshoes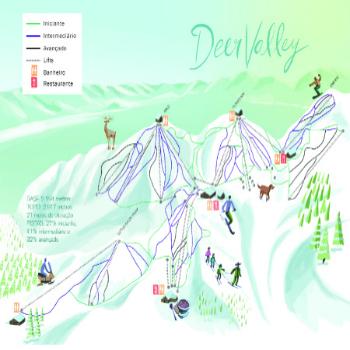 GASTRONOMY
In the village: at the base of the mountain, Fresh Tracks Kitchen serves healthy cuisine, full of colors and flavors and The Brass Tag, comfort food prepared in a wood-fired oven. On the mountain: Rime, atop the Jordanelle gondola, specializes in seafood, award-winning Mariposa, considered one of the best restaurants in the area, has an incredible tasting menu, while award-winning Goldener Hirsch and Fireside Dining invite you to dine in its elegant lounge with fireplace where contemporary reinterpretations of alpine classics are served, including fondues and recletes. Inside Silver Lake Lodge, Bald Mountain Pho serves Vietnamese cuisine with vegetarian options and the Royal Street Café has an eclectic menu. For quick stops, Cushings Cabin and Empire Canyon Grill serve snacks and practical food, including the region's famous turkey chili.
THINGS TO DO
Snowmobile rides, dog sledding and snow-suited bicycles are among the attractions. The neighboring city, Park City, has shops, cafes, restaurants and, in January, hosts the Sundance Film Festival, when hundreds of films are shown at various locations in the city.
ACTIVITIES FOR KIDS
The Children's Center has guided activities that stimulate imagination and group play for children aged between 2 months and 12 years. The exquisite ski school is also prepared to teach the little ones.
SHOPPING
Park City village, only 10 minute bar, has a variety of stores. The nearby Tanger outlet, has more than 50 stores, such as Calvin Klein, Ralph Lauren, and Tommy Hilfiger.
NIGHT LIFE
Mountain Terrace of St. Regis has a daily champagne ceremony, while The Après Lounge invites an après-ski down to Veuve Clicquot and the Stein Eriksen Lodge Champions Club has an après-ski unlike anywhere else in a massive game room with a selection of video. classic games and arcades.
NEWS FOT THE SEASON 22/23
New Cast & Cut Restaurant, located in the Snow Park Lodge area and scheduled to open on December 15, 2022, it is a new Surf n' Turf style option, which mixes the best cuts of beef with favorite seafood, especially the famous Porterhouse Dry Aged, along with lamb dishes and the tasty lobsters. Book a table and meet another great Deer Valley star.
HOW TO GET HERE
Salt Lake City International Airport: 40 mi (45min)
MAP
Lodging Options
Other ski resorts