Keystone
United States
In Keystone, no matter where you are, you'll find a skier pulling a cute red cart loaded up with equipment or… children! These little red wagons make it easy to get around the mountain and are one of the many free services that the resort offers with the needs of families in mind. Throughout the season, for example, Kidtopia offers a daily schedule that entertains the little ones with face painting, movie sessions, meet and greets with rescue dogs, art workshops and even handing out warm cookies at the end of the day. Thanks to the warm and hype-free, low-profile environment, the resort attracts children of all ages with two skating rinks, an ice castle full of tunnels and the Adventure Point tubing descents, which even has a "magic carpet" to speed up the climbs. And while at most resorts the activities end by mid-afternoon, in Keystone, the day is just beginning. More than ten slopes for beginners and intermediates are lit and open until 8 pm and without a doubt one of the local phenomenons is watching the sunset on the mountain. We are talking about the largest night ski operation in the United States, which guarantees up to 12 consecutive hours of descents and the special thrill of gliding under the stars. Divided into two support villages, River Run and Lakeside Village, it adds up to the perfect resort for families with children.
SEASON
Northern Hemisphere October to April
MONTAIN
Base - 9,280 ft
Top - 12,408 ft
SERVICES

Back Bowl Skiing

Catski

Dogsled

Ice Skating

Kids Room

Kids Snowmobile

Kids Supervised Entertainment

Night Skiing

Restaurant

Shopping Area

Ski In / Ski Out

Ski School

Skier Shuttle From The Hotel

Skiwear Shop

Snowpaintball

Snowpark

Tubing
GASTRONOMY
On the mountain: American cuisine dominates in Keystone, but there are two good exceptions on the mountain: Alpenglow Stube, which has German-inspired cuisine, and Der Fondue Chessel, which serves fondues and raclettes. Right next to the slopes, the Mountain House Food Court food court is a practical alternative for breakfast, an afternoon snack or even a more casual lunch, while the Timber Ridge Food Court atop North Peak , serves dishes from various nationalities and, at its base, Labonte's Smokehouse BBQ makes the best churrasco in the region. In the village: There are unmissable restaurants in the area. Bighorn Bistro & Bar prioritizes the use of fresh, local ingredients, while Keystone Ranch Restaurant serves American fare in a rustic yet elegant setting and Ski Tip Lodge, housed in a 19th century home, is perfect for a romantic dinner. to two. With more than 20 years of tradition, Luigi's Pastahouse is the best place to enjoy pasta accompanied by a good wine and BarLee's Food & Drink, among wraps, burritos and hamburgers, serves homemade food, prepared from scratch and even has a lounge underground, with pool tables and dart boards hanging on the walls.
WHAT TO DO BEYOND SKIING
The station's strong point is the outdoor activities, where you can enjoy admiring incredible panoramic views. There are from cat ski trips to hikes with snowshoes, snowmobiles and snow bikes, as well as rides on gigantic snowcats, suitable for all ages. Just choose your mode! It is also possible to travel through the snowy landscapes of the Soda Creek Valley, on the outskirts of Keystone, in an unusual way: aboard a carriage. In addition, Keystone has two skating rink options: Dercum Square and Keystone Lake itself, which freezes during the winter.
ACTIVITIES FOR KIDS
In addition to enjoying Kidtopia's daily schedule, children can have fun in the ice castle at the top of Dercum Mountain, which has tunnels and slides. But the main thing is that the little ones can learn to ski or improve their skills at Keysone's Children's Ski & Ride School, which has classes specially designed for them, while the River Run Children's Center has a professional team and has activities all day for the children. children who are still too young to enjoy the slopes.
NIGHT LIFE
Two of Keystone's most famous happy hours have a kids menu to appeal to parents traveling with kids: the Kichapoo Tavern, with several local craft beers, and the Snake River Saloon, with live bands every day. Also worthy of note is the 9280' Taphouse, which has 14 beer taps and several options of appetizers to go with it, and Dos Locos, which has a great selection of margaritas.
NEWS FOR THE SEASON 2022/2023
This season, the resort will inaugurate the Bergman Bowl area for hiking, some skiing and horseback riding, and in winter 2023/24, with the Bergman Lift in full operation, it will offer over 550 acres of off-piste skiing and areas for intermediate skiers. As for the gastronomic novelties, located on North Peak, The Timber Lodge has undergone an expansion and welcomes even more visitors to enjoy the restaurant's authentic mountain atmosphere. The renovation has included additional indoor and outdoor seating, allowing for beautiful 360-degree views of the surrounding peaks. Great for a quick mid-day stop for a snack or lunch.
HOW TO GET HERE
Vail/Eagle County Airport: 79 mi (2h)
Denver International Airport: 106 mi (2h45)
MAP
Lodging Options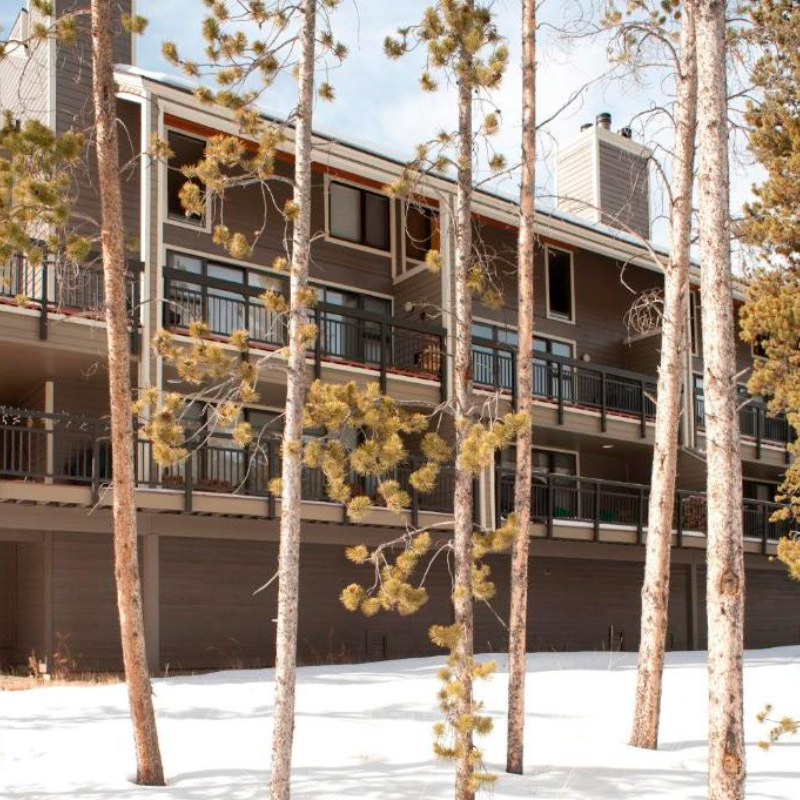 The Evergreen Lodge at Vail offers the ideal combination of a walk everywhere location, warm and friendly service and an unbeatable value. Our prime location in Vail Town Center, located between Vail and Lionshead villages, is a short walk and an even shorter ride on the complimentary Town of Vail…
Other ski resorts