Andermatt
Switzerland
Andermatt is an ultra-exclusive and low profile resort in the heart of the Swiss Alps. The town's plans include the construction of 42 buildings, with wooden chalets and luxury accomodations, before 2020. Skiing the two mountains, 75 miles of slopes, 18 lifts, and the town's cobblestone streets is what makes Andermatt so special. It's a quaint and luxurious destination for those in the know.
SEASON
Northern Hemisphere December to May
MONTAIN
Base - 4711 feet
Top - 9721 feet
RESTAURANTS
The best local restaurants are inside The Chedi property: The Restaurant, The Japanese Restaurant, and Club House. Bären and Toutoune are good options downtown. On the mountains, try Gurschen for Swiss cuisine, Nätschen, for its great terrace, and Gädabar for great steaks.
THINGS TO DO
Snowshoe trails, snowkite, cross-country skiing, sledding, and mountain climbing.
FOR KIDS
There are exclusive spots for children on the mountain, such as Kinderland, with magic carpets and toys.
SHOPPING
All the sporting good stores and department stores are on Gotthardstrasse.
NIGHT LIFE
Relax on the lounge chairs at Gäda Bar and Himalaya during après-ski; Di Alt Apothek is a lively bar; and The Chedi Bar is the most elegant.
SKI SCHOOL
There are three schools for all levels of skiers, including children, at the base of the mountain.
HOW TO GET HERE
Lugano: Transfer 1 Hr 30 Min
Zurich: Transfer 1 HR 30 Min
Geneva: Transfer 3 Hr 30 Min
MAP
Lodging Options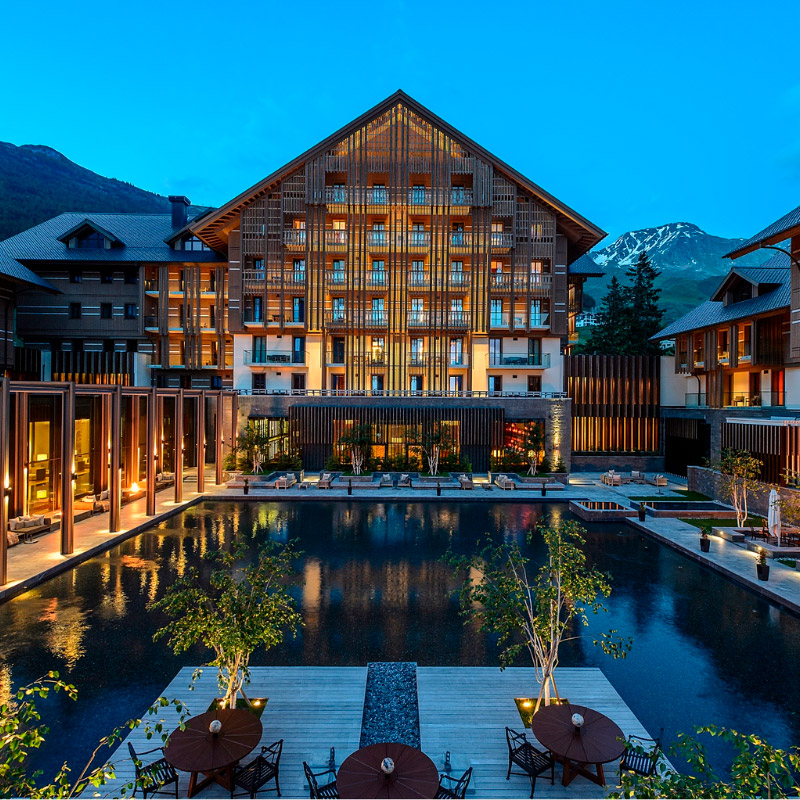 A destination unto itself, The Chedi Andermatt provides a stylish centerpiece to the expansive natural alpine landscape in the Urseren Valley, known far beyond Switzerland for its towering peaks, deep canyons, cascading waterfalls and pristine mountain lakes. The timeless charms of Andermatt village feel refreshingly remote yet are easily accessible.…
Other ski resorts