Cervinia
Italy
The Cervnia–Matterhorn area is one of the largest in the Alps, with a "domaine skiable" beyond compare: 350 km of slopes between Cervinia, Italy and Zermatt, Switzerland that stretch over the nearly 4,000 m of Piccolo Cervino and descend Valtournenche's 1,524 m. The area's ski runs offer the chance to ski all day without repeating the same run twice, alternating easier runs with those of increasing difficulty.
The famous Matterhorn peak, or Cervinio, is located between the Swiss mountains of Zermatt and the Italian highlands of Breuil-Cervinia and Valtournenche in the Valle d'Aosta. The Matterhorn Ski Paradise complex allows you to ski between the two countries on the same day, on more than 186 m of slopes. The region's high altitude ensures a constant snow season, provides prime conditions not only for downhill skiing and snowboarding, but also other activities such as cross-country skiing, heli-skiing, and snowshoeing. The small town is quiet, with boutique shops, cafes, and more than 30 restaurants – don't miss the delicious local polenta.
Altitude of Breuil-Cervinia: 2,050 m
Altitude of Valtournenche:  1,524 m
Lift systems: 19 in Breuil-Cervinia Valtournenche, 34 in Zermatt
Hourly capacity of lifts: 36,995 in Breuil-Cervinia Valtournenche, 90,525 in Zermatt
Maximum altitude reached by the lifts: 3,883 m Piccolo Cervino
Ski runs: 72 in Breuil-Cervinia Valtournenche, 78 in Zermatt
Ski runs with scheduled snow coverage: 200 km
Ski runs open for summer skiing 26.5 km: 5.5 km in Breuil-Cervinia, 21 km in Zermatt
Cross country ski runs: 3 km in Breuil-Cervinia,10 km in Valtournenche
One snowpark in Cervinia; at 2,800 m, the highest snowpark in Europe
Three children's ski areas
SEASON
Northern Hemisphere December to April
MONTAIN
Base - 6,725 feet
Top - 11,417 feet
SERVICES

Kids Room

Ski School

Snowmobile Tours

Snowpark

Snowshoes

Village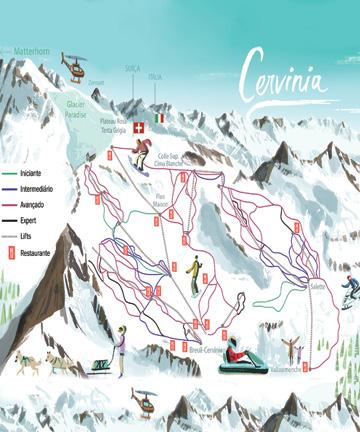 SNOWPARK
The Indian Park is over 1,300 feet long and 320 feet wide, which guarantees a freestyle area of ​​more than nine acres, perfect for snowboarders to practice their maneuvers.
FIRST UP
Go down the slopes and enjoy the pristine snow before the lifts open to the public with the First Track program.
SNOW COMPETITION
Young adventurers can have fun riding on snow-kart circuits.
UP HIGH
Departing from Cervinia, the local heliski operation takes skiers up 13,000 feet and drops them on untouched tracks!
ROMANTIC DINNER
An incredible experience for two, dine at one of the mountain restaurants and descend under the full moon accompanied by a ski instructor.
HOW TO GET HERE
Turim Airport: 74 miles
MAP
Lodging Options
Other ski resorts