Portillo
Chile
The oldest ski resort in Chile has a pleasant and captivating atmosphere: that of a large family, where everyone knows each other and has fun together. In addition, the amazing view of untouched nature makes for an unforgettable vacation. The iconic yellow hotel is located in the middle of the snowy mountains and overlooking the Laguna del Inca. The slopes, which have already been frequented by great Olympic athletes, are adapted with options for all levels of skiers, including children, who learn in a special area with magic carpets and the presence of mascots; while the more experienced can practice Heliski. The structure is completed with a heated outdoor pool, spa, restaurant, bar and a complete program of activities throughout the day
SEASON
Southern Hemisphere July to September
MONTAIN
Base - 9,186 feet
Top - 10,860 feet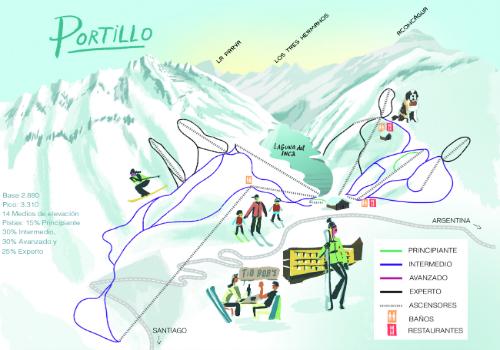 RESTAURANTS
Choose from a meal at the base of the station, inside the hotel complex or on the mountain. Tio Bob's serves traditional Chilean asado and hamburgers, all accompanied by salads and soups and with a breathtaking view of the slopes. If you want to enjoy renowned dishes, check out Chef Rafael Figueroa's Mediterranean menu at Ski Resort Portillo's main restaurant, with typical Chilean delicacies such as Centolla, fish from the Pacific, as well as the possibility to taste award-winning local wines and labels from very special wineries.
THINGS TO DO
For those who want to enjoy the entire area of ​​the Portillo ski resort, there are a number of activities available. Guests can book snowshoe hikes and heliski experiences and the hotel complex features a cinema room, climbing wall, foosball table and indoor multi-sport court. After a busy day of skiing, guests can enjoy an après-ski at the hotel's bar, or relax in the heated waters of the pool enjoying the view of the Laguna, practice yoga, stretching, or have a massage session at the spa. Closer to dinner, you can taste good wines in the restaurant, while contemplating the beautiful mountain panorama without any worries.
FOR KIDS
For children, on the mountain, there are ski lessons, magic carpet, tubing descents. Inside the hotel, the little ones will find an incredible game room with foosball, climbing wall and multi-sport court. There are also activities coordinated by the entertainment team, such as parties to celebrate the week's birthdays, art workshops and a cooking class in the hotel's kitchen. If you don't want to ski, children 4-7 years old can stay at Parvolario under the supervision of babysitters (fees apply for 0-3 year olds only).
EQUIPMENT RENTALS
The Portillo ski workshop selects the ideal equipment for you, and adjust so you're comfortable and safe. During your stay, they offer full maintenance services. You can rent ski equipment, snowboards, boots and poles, helmets, and snowshoes.
SKI SCHOOL
Led by the talented skier Katie White, the ski and snowboard school has classes for all levels from 7 years old, private or in groups, combining technique and fun. There is also the Kids Camp, which introduces the world of snow to children between 4 and 6 years old; the Ski Camp, a more intensive and personalized program lasting one week; and the Adapted Ski, so that skiers with some type of disability can also enjoy the mountain intensely
NIGHT LIFE
The Portillo Bar, with its huge fireplace, stones and furniture, is the most beloved refuge of the hotel's regulars. After dinner, it's where all the skiers meet to enjoy a traditional pisco sour, Chilean wines and drinks accompanied by live music every night. The liveliest ones still head to Disco, which buzzes with the resident DJ's hits that lift the dance floor.
HOW TO GET HERE
Santiago Airport: 92 miles
MAP
Lodging Options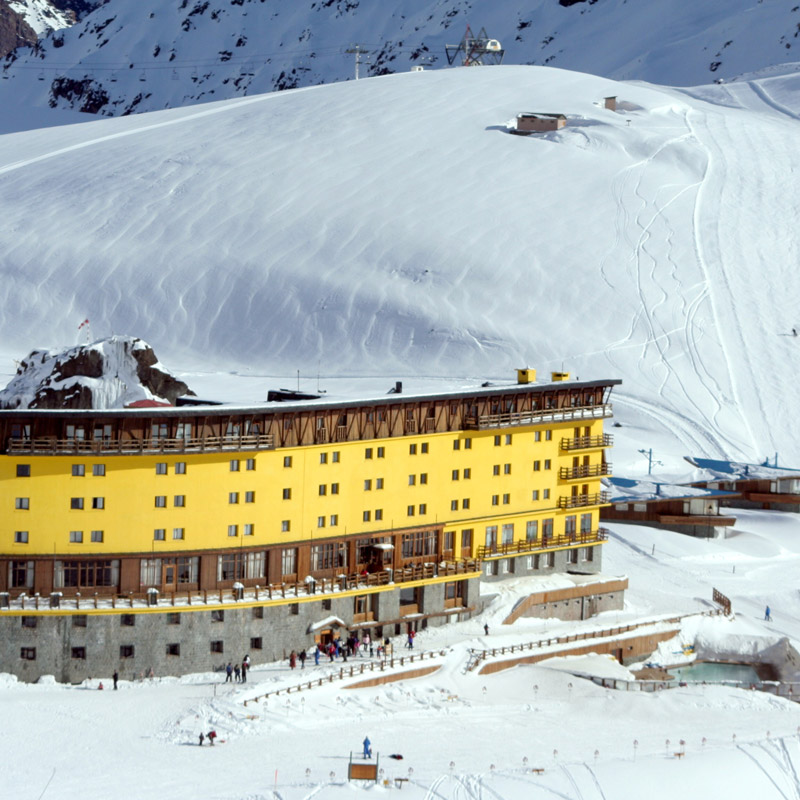 Located in the middle of the mountains, the iconic hotel prides itself on providing the best quirky activities experience possible, with a long list of activities, helpful and comprehensive service for all types of guests, from adventurous friends to families with children. A worldwide reference, the hotel has 123 comfortable…
Other ski resorts