Stowe
United States
Arriving in Stowe is an experience – drive through the Green Mountains' rock-walled passes, under majestic maple trees, into woodsmoke-scented valleys and streets lined with quaint inns and shops. Two of New England's finest mountains, Mansfield and Spruce Peak, are joined by an inter-mountain transfer gondola, with a deluxe base lodge on one side, steep runs and the "Front Four" double black diamond trails on the other. With 485 acres of skiable terrain, more than 200 miles of cross-country ski trails, some of the finest downhill skiing in the East, and world-class ice-climbing, this is a mecca for endorphin junkies – and home to Ben & Jerry's Ice Cream. Don't leave without taking a Factory Tour and sampling the flavor of the month.
SEASON
Northern Hemisphere December to April
MONTAIN
Base - 2,035 feet
Top - 4,241 feet
SERVICES

Ice Skating

Restaurant

Snowshoes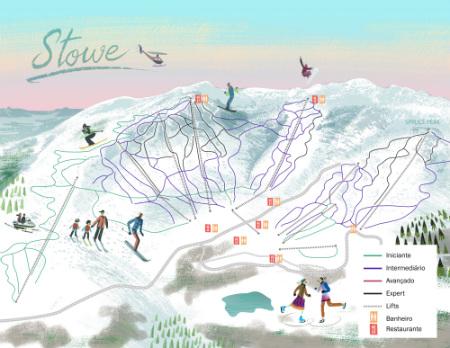 ON-MOUNTAIN CUISINE
Artisan-inspired Solstice, located inside Stowe Mountain Lodge, takes New England's farm fresh produce to a whole other level with its hyper-local dining experience.
BREAKFAST OF CHAMPIONS
Dutch Pancake Cafe at the Grey Fox Inn where pannekoekens, the Dutch version of a pancake or crepe, comes with your choice of more than 50 varieties of toppings.
SNOWSHOEING
Take a guided snowshoe tour at magic hour (twilight) through woodland trails, frozen waterfalls and open meadows.
DELICIOUS CREATIONS
Not far from south of the mountain, Ben and Jerry's Factory – take a 30-minute guided tour to be followed, naturally, with a cone of the good stuff in the Scoop Shop.
DANCE THE NIGHT AWAY
The Rusty Nail has been the site of many a memorable party with live music by top bands and dancing on the massive, sunken dance floor.
HOW TO GET HERE
Burlington Airport: 40 miles
MAP
Lodging Options
Other ski resorts