Breckenridge
United States
Walking through downtown Breckenridge is like stepping foot inside an Old West movie. Main Street cuts through the center of town, and is lined with a series of Victorian-style buildings. Colorful and well preserved, they date back to the 19th century, when "Breck", as the locals call it, was still just a mining village. Currently, Breckenridge is home to just over three thousand inhabitants, with an infrastructure geared towards tourism: the city serves as the base for five different mountains, known as "Peaks" 6, 7, 8, 9 and 10. There are 34 ski lifts linking them, with the Imperial Express Super Chair standing out as one of the tallest ski lifts in the world. It is located at almost 13,000 feet of altitude, a height which which guarantees snow in quality and quantity at the resort. In total, you will find 187 slopes for all levels of skiers, the longest stretching almost 3.5 miles long. But there are simply no numbers to size up the beauty of the Rocky Mountains, Breckenridge's backdrop.
SEASON
Northern Hemisphere December to May
MONTAIN
Base - 9,600 feet
Top - 12,998 feet
SERVICES

Bar

Day Care For Little Ones

Disco

Dogsled

Gourmet Restaurant

Heliski

Ice Skating

Kids Ski School Facilities

Nature Tour / Animal Observing

Nordic Skiing

Shopping Area

Ski School

Snow Roller Coaster

Snowmobile Tours

Snowpark

Tubing

Walking Distance From Mountain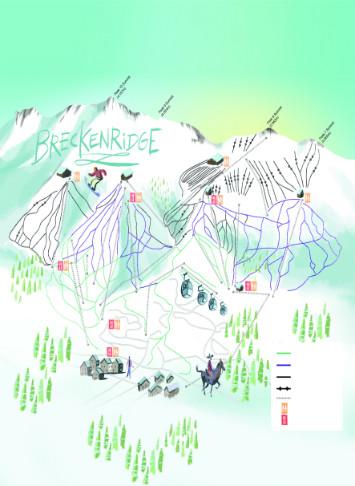 GASTRONOMY
In the village: In the village, there are good opportunities to sample local game meats at the Briar Rose Chophouse & Saloon and the Hearthstone Restaurant. But for those who want a change, there are good pizzas and pastas at Giampietro, seafood at South Ridge Seafood Grill, inventive dishes at Ember, Blue River Bistro with authentic American cuisine in a casual setting and steaks and Italian dishes. classics from Legends Steaks & Seafood. For those who like a little bit of everything, Twist serves everything from American classics to international cuisine, while Modis' kitchen and bar act as a kind of laboratory, where the team is always incorporating the latest culinary techniques into their recipes. On the mountain: Scattered across the Breckenridge mountains are restaurants that serve fast but quality food: this is the case of Pioneer Crossing, Ski Hill Grill and Vista Haus. The Overlook is the highest restaurant in the area and is known for its beautiful panoramic views, while The Maggie prepares American and Mexican dishes and has a special après-ski menu. For those looking for a refined and intimate restaurant on the mountain, Seven's is a must.
THINGS TO DO
To learn about the history of the area, it is worth visiting historic buildings such as the Barney Ford House and the Edwin Carter Discovery Center, which have been converted into interesting museums. Another popular program in the city is visiting and tasting at the Breckenridge Brewery, the third oldest brewery in Colorado, and at the Breckenridge Distillery, which has already been named distillery of the year by the New York Spirits Competition. To get your body moving, the Breckenridge Recreation Center has a rock climbing wall, snowmobile rides, ice skating and hockey tours, and the White River National Forest at Peak 8 has 15 km of trails perfect for hiking.
ACTIVITIES FOR KIDS
Peak 8 Child Care, Village Child Care and Beaver Run Child Care entertain children up to four years old with indoor and outdoor activities, as well as serving healthy snacks. Children will also enjoy visiting the Country Boy Mine, a former 19th-century gold mine where they can feed donkeys, and the Mountain Top Children's Museum, which teaches art and science in a playful way. In the middle of the forest, the Gold Runner Alpine Coaster roller coaster is also a must-stop.
SHOPPING
20 minutes from Breckenridge, the Outlet at Silverthorne brings together more than 50 stores from brands such as Calvin Klein, Tommy Hilfiger and Ralph Lauren. But you don't have to leave the city to find everything you need for your ski vacation, as the city brings together branches of Patagonia, The North Face and Columbia on Main Street.
NIGHT LIFE
After a day on the slopes, Colorado draft beers and craft beers are a hit at establishments like Kenosha Steakhouse, Robbie's Tavern and Rocky Mountain Underground. But one of the most famous après-ski in the region is the TBar, which is at the base of Peak 8 and serves appetizers. If you want to drink something in a more special environment, the suggestion is to go to the Breckenridge Brewery, the third oldest brewery in the state, or to the Brekenridge Distillery, which produces an award-winning whiskey. Whiskey is also one of Cecilia's strong points, which has a good collection of Scottish malts and the biggest dance floor in town, where the party goes on until dawn.
NEWS FOR THE SEASON 2022/2023
Located at Peak 8, the Rip's Ride chairlift awaits skiers this season completely renovated and modernized to double its capacity and increase the speed of the line to the top of the mountain. With its opening scheduled in November 2022, it will take up to 4 riders per car in less time. In addition, some projects and updates in the village of Peak 8 promise even more innovation and comfort for its visitors.
HOW TO GET HERE
Eagle Airport - 70 miles (1h20)
Denver International Airport - 103 miles (1h50)
Colorado Springs Airport - 116 miles (2h30)
MAP
Lodging Options
Other ski resorts